The Beginings Of
South Park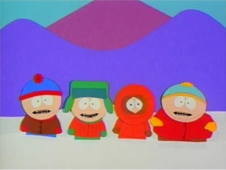 In the University of Colorado, history was made. Trey Parker and Matt Stone (the creators of South Park) had created their first animated short. Which marked the begining of their partnership in their careers in animation.
The short was noticed by Brian Graden, an executive of FOX Network. The executive requested another animated short that he could send as a kind of card for the Holidays. The short became popular and spread wildly via reproduction and the Internet. It was then, FOX discussed about making a series based around the characters in the short. Those characters were foul mouthed third graders named: Kyle, Stan, Kenny, and Cartman. The promise of a series was then handed over to Comedy Central.
On August 13, 1997 the first episode of the first season of South Park debuted on Comedy Central. Ever since then, South Park became a phenomenon on television. This show stirred not only laughter but controversies as well. But despite that, it still goes on showing more and more episodes to this day!